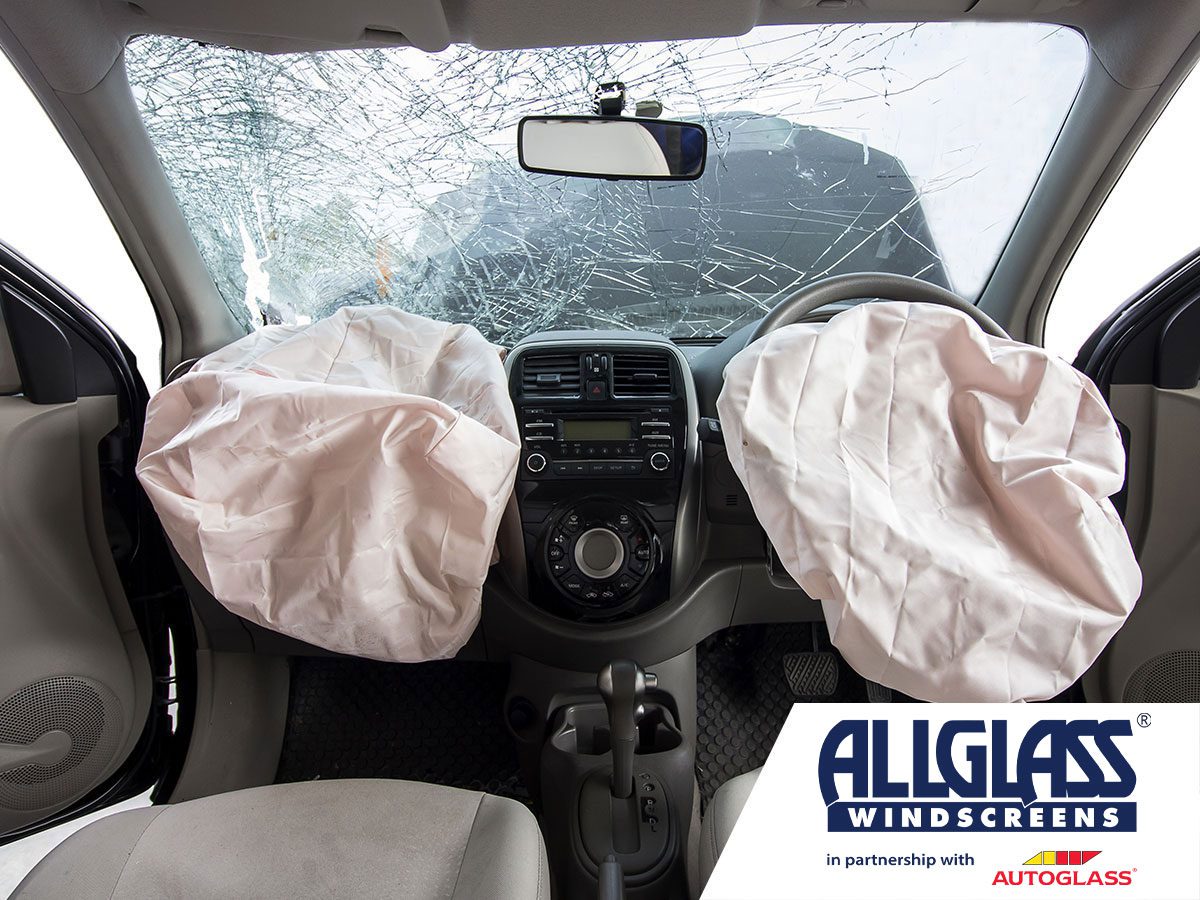 Windscreen safety – what is it and why is it so important?
Windscreens are often overlooked when we discuss car safety. While we all know windscreens protect the occupants of your car from the elements, most drivers don't realize the importance of windscreen safety and the crucial roll windscreens play, when it comes to overall driver safety.
The presence of a correctly fitted, undamaged windscreen and windscreen safety in general are closely linked to the overall safety of your car – especially in the unfortunate event of a crash. When a car is involved in an accident, the windscreen plays a vital part in supporting airbag inflation, preventing occupant ejection and keeping the roof from caving in, in the event of a rollover. As cars get lighter, windscreens also provide additional vehicular torsional strength.  Damage present on your windscreen is shown to significantly reduce the integrity of the windscreen – when considered in those terms, driving with a chipped, or cracked windscreen starts to feel less like a nuisance and more like a liability.
Over the course of our four decades replacing and repairing windscreens, our technicians have reported that a significant proportion of previously replaced windscreens were of poor quality. In some cases, to such an extent that the previous replacement presented a very real risk to driver safety. For this reason, if you require a windscreen repair or replacement, you should always insist on using a specialist Vehicle Glass Repair and Replacement service.
The Dangers of Driving With A Damaged Windscreen >>
Airbag Inflation:
Tests have shown that poorly-fitted windscreens can have a directly adverse effect on airbag deployment. If the replacement windscreen is poorly bonded, at the point of airbag deployment, the windscreen may actually pop out of the aperture, causing the airbag to inflate outside of the vehicle and away from the occupant. Dummies tested following simulated accidents in two identical cars – one car with a correctly fitted windscreen and another with a poorly bonder windscreen – showed considerably increased Head Injury Criterion values (the scale used to measure traumatic injuries to the head) to the dummy in the car with the poorly fitted replacement windscreen.
Occupant Ejection:
Existing data from the Transport Research Laboratory (TRL) determined that a properly fitted windscreen is much more likely to remain in place over the course of an accident. This, naturally, is a significant help in ensuring that the car's occupants do the same. These same tests showed that the chance of fatal injury during an accident is increased threefold when the occupant is ejected from the cockpit. Proper windscreen safety is essential to keeping you and yours safe inside your car should the worst happen.
Roof Crushing:
Another set of TRL tests illustrated the value of windscreen safety in the event of a rollover accident. The likelihood of roof displacement toward the occupants (crushing inwards) is shown to increase by up to 30% when the car doesn't have a properly fitted or damaged windscreen.
As more and more reports filtered back from technicians, Autoglass® Ireland decided to commission the Transport Research Laboratory to design and implement a new independent research study to quantify just how many previously replaced windscreens showed signs of poor fitting or safety deficiencies (further details below).
7 Unexpected Ways You're Damaging Your Windscreen >>
Windscreen Safety Study findings:
A windscreen safety study was commissioned by Autoglass® Ireland in 2013 and designed by the TRL. It involved collecting and cataloguing information on 558 previously replaced windscreens in Ireland. This information was collected by Autoglass® Ireland technicians using specific methodology developed by the safety experts at the TRL.
Over the course of the study, three visits were made to Autoglass® Ireland branches around the Dublin area by the TRL to oversee study implementation and data checks collection processes. The technician's findings were delivered to the TRL who, using the objective information collected at the point of replacement, assessed the quality and ultimately the overall safety of the windscreen replacement.
In summary, the TRL study found:
Over 35% of windscreens that had been previously replaced were judged to exhibit some type of safety defect and more than 14% of windscreens that had been previously replaced were judged by the TRL to exhibit safety issues rated as having 'high' or 'medium' risks.
That means, upwards of 36,000 windscreen replacements per year in the Republic of Ireland were estimated to have quality or safety issues, and between 11,803 and 17,809 per year were estimated to have a windscreen replacement which may seriously compromise the safety of the vehicle.
These figures certainly make for stark reading and really serve to highlight the importance of having your windscreen replaced and maintained by a specialist technician – especially where ADAS is concerned.
What is ADAS Windscreen Calibration? >>
ADAS and Windscreen Safety
ADAS or Advanced Driver Assistance Systems is a catch-all term that covers the wealth of technological and safety enhancements present in most modern vehicles.
ADAS technologies present in windscreens typically rely on a combination of sensors throughout the vehicle and a front facing camera positioned directly on the windscreen, behind the rear view mirror. When an ADAS enabled vehicle undergoes a windscreen replacement, this system must be recalibrated. The significance of proper ADAS calibration in terms of driver safety cannot be overstated.
Full ADAS system recalibration ensures that all your safety features are operating at their peak performance. If your new windscreen is fitted incorrectly, even by as little as a few-millimetres, your ADAS' capabilities will be greatly impaired. Every vehicle is different, so manufacturers always stipulate their own unique ADAS calibration criteria.
It's worth noting that recalibrating your ADAS needn't be limited to immediately after a complete replacement. It's sensible to get a full ADAS recalibration if for example, your ADAS camera has been disconnected or if your vehicle has recently been subject to a wheel alignment or suspension adjustment. Allglass® / Autoglass® have the most extensive and sophisticated ADAS calibration network in the country, catering for 100% of ADAS enabled vehicles. Call us on 01-4090900 to arrange a booking today.
Dynamic vs Static ADAS – what's the difference? >>
We hope this piece illustrated just how vital a safety device your windscreen is and why you should always opt for a specialist service, when repairing or replacing vehicle glass. Check the Allglass® / Autoglass® blog again soon for more explainers, guides and motoring tips.
Book an appointment now
For a quick and easy way to make an appointment book online now.