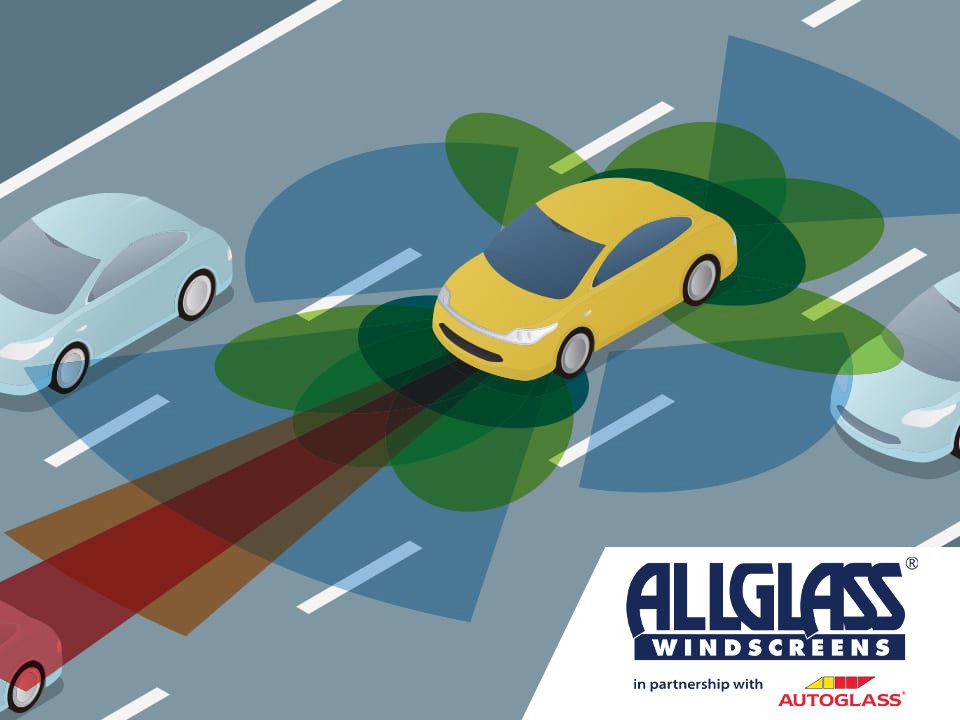 What is ADAS Windscreen Calibration?
ADAS or Advanced Driver Assistance Systems is a collective term for the various technological enhancements present in many modern vehicles. These technologies aim to enhance and improve both driver and vehicle safety. Often Advanced Driver Assistance Systems can be found as part of modern windscreens. Because of these developments, special procedures must be followed when you are getting a new windscreen installed on many modern vehicles.
Features of ADAS Windscreens:
Automobiles are constantly evolving. As a result, more and more frequently advanced driver safety features are being integrated into the windscreens. Advanced Driver Assistance Systems are relevant to vehicle glass repair and replacement because of the cameras and sensors that can be present on the windscreen itself.
When an ADAS integrated windscreen is replaced, there is a danger of misalignment due to their sensitivity. This can have a significant effect on how well the system works. The technician fitting your windscreen must ensure correct calibration is carried out so that the camera has precisely the right view of the road ahead. As ADAS technology continues to improve and get more complex – it therefore becomes vital that you have a trusted expert handle any and all windscreen repairs.
Why is Windscreen Camera Calibration necessary?
ADAS windscreens typically function through a combination of sensors and cameras.
Vehicle manufacturers recommend that, following a windscreen replacement, the system is calibrated to ensure that all safety features are working. If your windscreen is incorrectly fitted, even by as little as a few millimetres, these technologies might be compromised! Each car is different, so manufacturers also stipulate unique calibration settings for their Driver Assistance Systems.
Calibrating your windscreen should not be limited to immediately after a complete replacement. It is recommended that you get your Driver Assistance Systems checked if:
Your ADAS camera is disconnected.
Your camera is partially removed or develops a fault.
You have recently had a wheel alignment or change of suspension because this can affect your ADAS service.
The infographic below highlights the importance of correct Advanced Driver Assistance System calibration.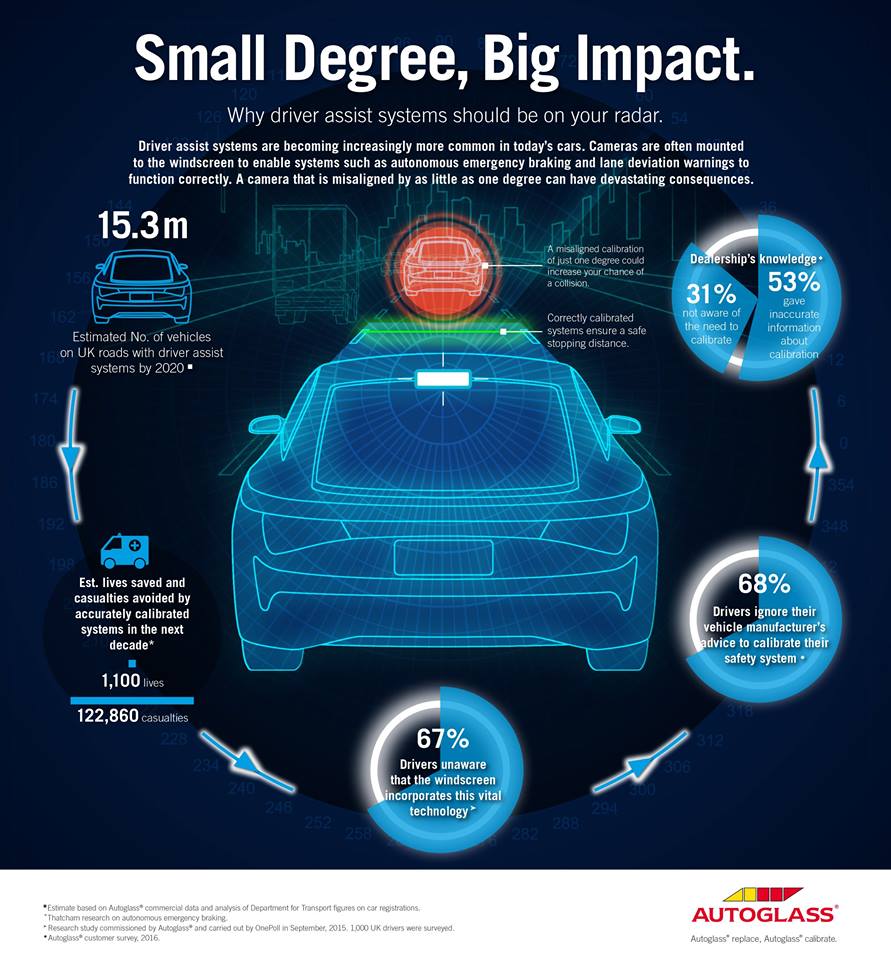 Does my car need ADAS windscreen Calibration.
Many modern vehicles boast complex technologies as part of their windscreen. Work your way through this handy checklist. If you're vehicle has any of these features, then you  should consult a trusted ADAS windscreen professional to confirm if a calibration is necessary.
Adaptive cruise control (ACC)
Adaptive high beam
Glare-free high beam
Adaptive light control: swivelling curve lights
Automatic parking
Automotive navigation system providing up-to-date traffic information.
Automotive night vision
Blind spot monitor
Collision avoidance system
Crosswind stabilization
Driver drowsiness detection
Driver Monitoring System
Electric vehicle warning sounds used in hybrids and plug-in electric vehicles
Emergency driver assistant
Forward Collision Warning
Intersection assistant
Hill descent control
Intelligent speed adaptation or intelligent speed advice (ISA)
Lane departure warning system
Lane change assistance
Pedestrian protection system
Traffic sign recognition
Turning assistant
Vehicular communication systems
Wrong-way driving warning
Common ADAS Features Explained >>
What is the difference between Dynamic and Static ADAS Calibration?
There are two distinct branches of ADAS Calibration. Depending on the nature of your windscreen technologies – you will require either:
Mobile calibration
This applies to dynamic ADAS. Calibration is carried out with the use of a hand-held device plugged directly into the car. In most cases, the vehicle will then need to be driven at a prescribed speed over a certain distance in optimum weather conditions so the system can become accustomed to certain road features. Often the vehicle manufacturer will stipulate specific parameters for calibration of their dynamic ADAS.
Fixed calibration
This applies to static ADAS. Calibration is carried out in a specially tailored workshop environment. This form of calibration requires a specialist Camera and Sensor Calibration Tool. Each car manufacturer requires different calibration settings due to the particulars for their Static ADAS.
Thankfully, we at Allglass® / Autoglass® are equipped to cater for both Dynamic and Static Advanced Driver Assistance System Calibration on any make or model of car. Click here to learn more about the tools Allglass® / Autoglass® use for our Windscreen Camera Calibrations.
We hope that you have found this ADAS explainer helpful. Call Allglass® / Autoglass® today on 01-4090900 to book your ADAS Windscreen Calibration. Don't forget to check the Allglass® / Autoglass® Blog regularly for more helpful guides just like this one.
Book an appointment now
For a quick and easy way to make an appointment book online now.