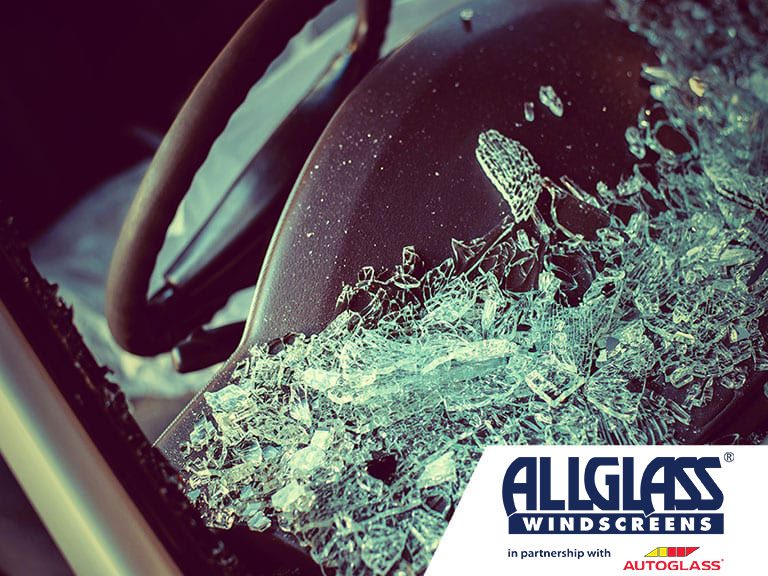 The Dangers of Driving With A Damaged Windscreen
A chipped, cracked or damaged windscreen can mean much more than a simple eyesore. Though issues with your windscreen might seem less pressing than a mechanical fault in you car; windscreen damage can be extremely hazardous to you, the occupants of your car and your fellow road users. It may not seem like your car's most obvious safety feature, but a properly fitted and well maintained windscreen plays more of a role than you might think. If the worst should happen, a structurally sound, correctly installed windscreen will prevent passenger ejection, prevent a roof-collapse in a rollover accident and allow airbags to inflate properly.
Damaged Windscreen
Even minor damage can dramatically effect your windscreen's structural integrity. This not only makes your windscreen more susceptible to shattering when hit by flying road debris or cracking over time, but can put the lives of you and the occupants of your car at grave risk.
Airbag Deployment
In a collision an airbag deploys in 35 milliseconds. To put this speed into perspective, it takes approximately 200 milliseconds to blink your eye. Front airbags rely on the rigidity of your windscreen, to inflate outwards and provide the maximum amount of protection. If a windscreen is damaged or poorly bonded, the force exerted as the airbag deploys can shatter or completely detach the windscreen, causing the airbag to inflate in the wrong direction, and provide no protection to the driver and front passenger.
The video below demonstrates what what can happen when an airbag inflates in a car with a damaged or poorly bonded windscreen.
Rollover Accidents
As cars get lighter and pillars get thinner, greater reliance has been placed on windscreens to provide occupant protection in rollover accidents. Research has shown that in these situations, the displacement of the roof towards the occupants of the car can be increased by up to 30%, if a windscreen is damaged or poorly bonded.
Passenger Ejection
It goes without saying that you and your passengers should wear your seat belts at all times. However, in the event of a collision, your windshield also serves as a barrier to protect you and your passengers from being ejected from the car. If your windscreen has even a minor crack, this means it is fundamentally weaker than it needs to be and may not be able to withstand the force of a body being hurled against it.
Torsional and Structural Stiffness
Your windscreen also plays a pivotal role in the handling characteristics of your car, as modern windscreens provide up to 34% of the torsional stiffness. In a similar vein, your windscreen serves as a means to dissipate impact and spread the force of a collision throughout your chassis. If the windscreen is damaged, this benefit is lost.
Cracked Windscreen
Aside from the dangers outlined above, a cracked windscreen can also grossly compromise visibility. Though a windscreen crack might appear small, it can quickly spread and drastically obstruct your view from the vehicle. Cracks cannot be repaired unfortunately and a windscreen replacement is the only means to deal with them. If you notice a crack, for the safety of you and other road users, it is essential to get it looked at asap by a professional.
Chipped Windscreen
A windscreen chip is less severe than a crack and can in most cases be repaired. At Allglass® / Autoglass® our philosophy is to repair first rather than replace, however the location and severity of the chip can often rule out repair as an option. If you have a chip on your windscreen, this guide will help you determine whether it is repairable.
Chips are repaired using our revolutionary resin repair system. In some cases a blemish will be visible in place of the chip, but following a chip repair the structural integrity of the windscreen will be fully restored, making your vehicle safe to drive again.
As a rule of thumb, you should always tend to chips large or small as soon as they appear. Road vibrations and changes in temperature will turn these chips into cracks, making what could have been a repair into a more expensive replacement.
In Conclusion
It's important for drivers to be aware of the safety issues associated with a damaged windscreen. Even minor windscreen damage shouldn't be taken lightly and should be dealt with as soon as it appears. A little issue can quickly snowball, especially at this time of year when your windscreen is exposed to more extreme conditions.
Another consideration is the potential effect a damaged windscreen can have on your insurance coverage. If your insurer can establish that you failed to rectify a damaged windscreen in advance of an accident, it may impede your claim.
If you have a damaged windscreen, we're here to help. Call 01-4090900 to speak to an agent 24/7. Alternatively if you'd like to go ahead and book an appointment, you can do so by clicking here. Allglass® / Autoglass® offer a nationwide, fully mobile service, meaning we can carry out the work at a time and place that suits you.
We hope you found this article informative. Don't forget to check back with the Allglass® / Autoglass® blog soon for more guides, tips and advice. Stay safe on the roads this winter.
Book an appointment now
For a quick and easy way to make an appointment book online now.