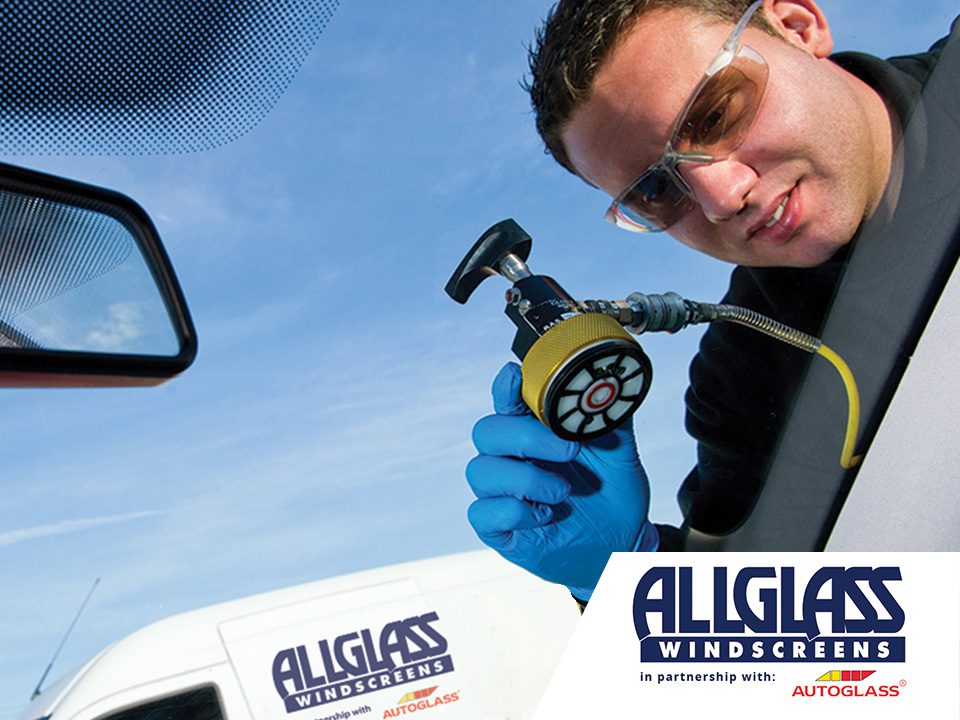 Windscreen Chip Repair – Good for your Pocket and the Environment
It should come as no surprise that a chipped, cracked or damaged windscreen can mean much more than a simple eyesore. Though issues with your windscreen might appear to be less serious than a mechanical or engine fault in your car, don't be fooled, windscreen damage can be extremely hazardous for yourself, your passengers and fellow road users.
Take a moment to consider all that your windscreen has to do in the event of an accident. If the worst should happen, your windscreen has an important part to play in proper airbag inflation, not to mention the key part your windscreen plays in preventing a roof-crush in a rollover accident. But these are worst-case scenarios, of course. That said, more routine windscreen repair is massively important to maintaining a roadworthy vehicle and keeping you and your passengers safe.
Windscreen safety – what is it and why is it so important? >>
Noticed a chip in your windscreen? No need to panic – this needn't spell a costly windscreen replacement. In fact, you might be surprised to learn just how many benefits there are if you opt for a windscreen chip repair rather than a total replacement.
Cheaper
It is not uncommon for drivers to simply ignore chips in their windscreen out of concern regarding the cost of a full windscreen replacement. A chip in your windscreen may feel like a minor issue now, but rest assured, you can be certain that overtime the damage will spread. The sooner you act and commit to a windscreen chip repair, the less likely it is that you will have to go ahead and replace the whole thing. A full replacement is significantly more costly than the windscreen repair service provided at Allglass Autoglass locations nationwide. In fact, a windscreen repair might not cost you anything. If you have fully comprehensive vehicle insurance, or vehicle insurance including cover for glass damage, we can usually repair your windscreen for free. What's more, it won't affect any no claims bonus that you may have.
In the vast majority of cases you shouldn't even have to deal with your insurance company at all as Allglass Autoglass can usually handle the paperwork if the repair is covered by your vehicle insurance.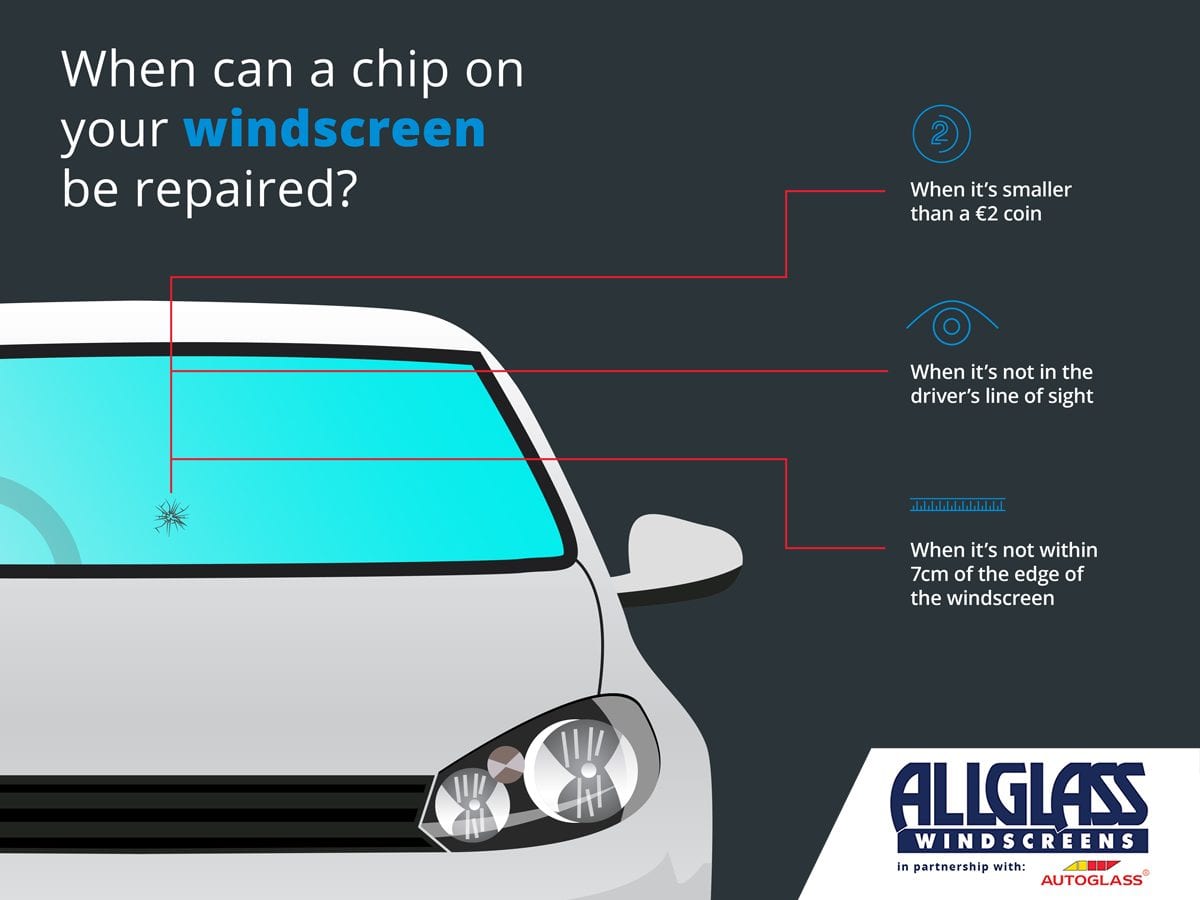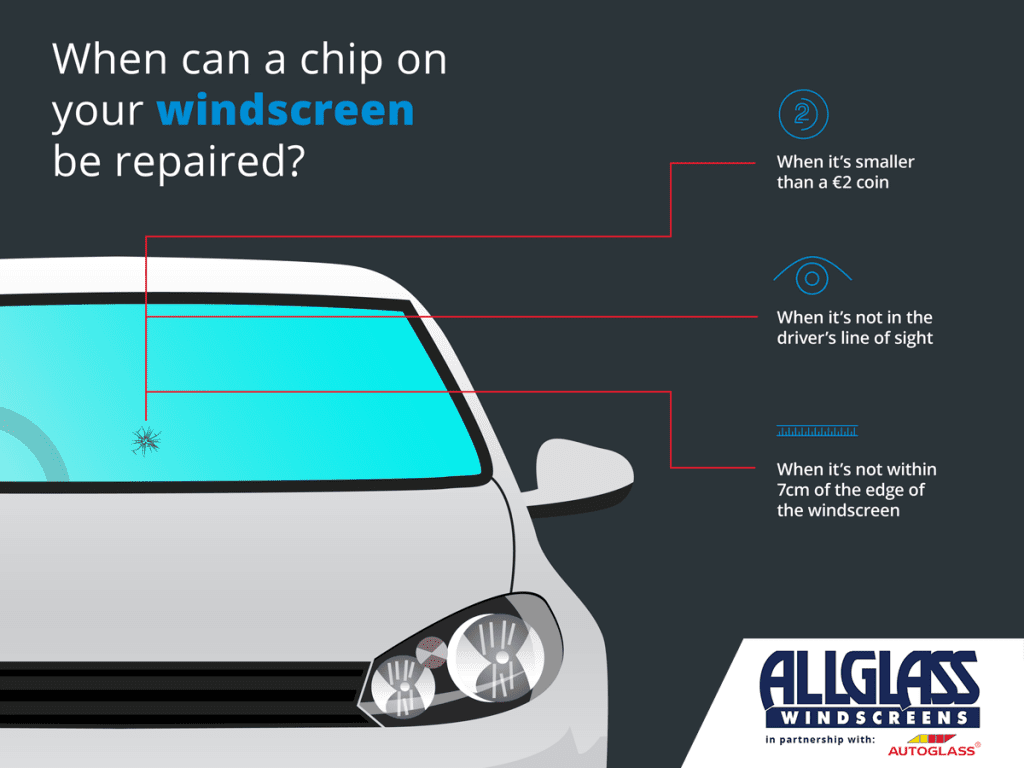 Faster
Stopping by your nearest Allglass Autoglass location to repair a chip is going to be a much quicker and more seamless process than having your entire windscreen replaced. In fact, a windscreen chip can usually be repaired in less than half an hour. If that wasn't handy enough already, Allglass Autoglass also offers a mobile windscreen repair service for your convenience. Just call us on 01-4090900 or visit bookings.allglass.ie to arrange an appointment and one of our technicians will be more than happy to visit you at home, at work or wherever you and your vehicle happen to be, at a time and date that suits you.
Better for your car
It might come as a surprise to learn that when you get a chipped windshield repaired right away, you're not just fixing the problem. You're also strengthening the affected area in the windscreen and preventing the chip from spreading.
Our highly trained Allglass Autoglass windscreen repair technicians use specially formulated resin to fix chips. They inject the resin into the chip, then heat up the spot to harden the resin, which will then expand slightly, completely filling the affected area. If you act fast and get chips repaired immediately, you stand to greatly increase the lifespan of your windscreen.
Better for the environment
Aside from the benefits to your car and your bank balance, opting for repair over replacement is also the better choice for the environment. Windscreen glass can be next to impossible to effectively recycle as much of the glass is laminated and contains a PVB layer that would need to be separated. Many modern windscreens also boast integrated heating elements or radio antennas embedded within their glass. Unfortunately, these ADAS enhanced windscreens cannot be returned to the glass furnace for reworking and recycling.
Carglass has been predicted to take as long as one million years to naturally biodegrade. So, every repaired windscreen is one less replaced windscreen clogging up a landfill.
Also, it is worth keeping in mind that the energy required to produce one new windscreen is roughly equal to the amount of energy used over the course of 10,000 repairs. Some climate scientists have suggested that if there was even as little as a 20% increase in global glass repairs – instead of glass replacements – we could stand to see carbon emissions reduced by maybe as much as 57 million metric tonnes each year. In Europe alone, over 11 million windscreens are replaced annually. With each windscreen weighing on average 25 pounds, we're talking about 275 million pounds of non-recyclable waste arriving into landfills each and every year. Thousands upon thousands of repairs can be carried out for the equivalent environmental impact of just one replacement.
The Time Has Come For All Drivers to be Eco Friendly >>
With the facts laid out, it is hard to argue with the obvious benefits – financial, environmental and otherwise – to having your windscreen repaired rather than replaced. Click here to find your nearest Allglass Autoglass depot and call us on 01-4090900 or visit bookings.allglass.ie to book your windscreen repair at a time convenient to you. Check back soon for more explainers, guides and tips just like this one on the Allglass Autoglass blog.
Book an appointment now
For a quick and easy way to make an appointment book online now.