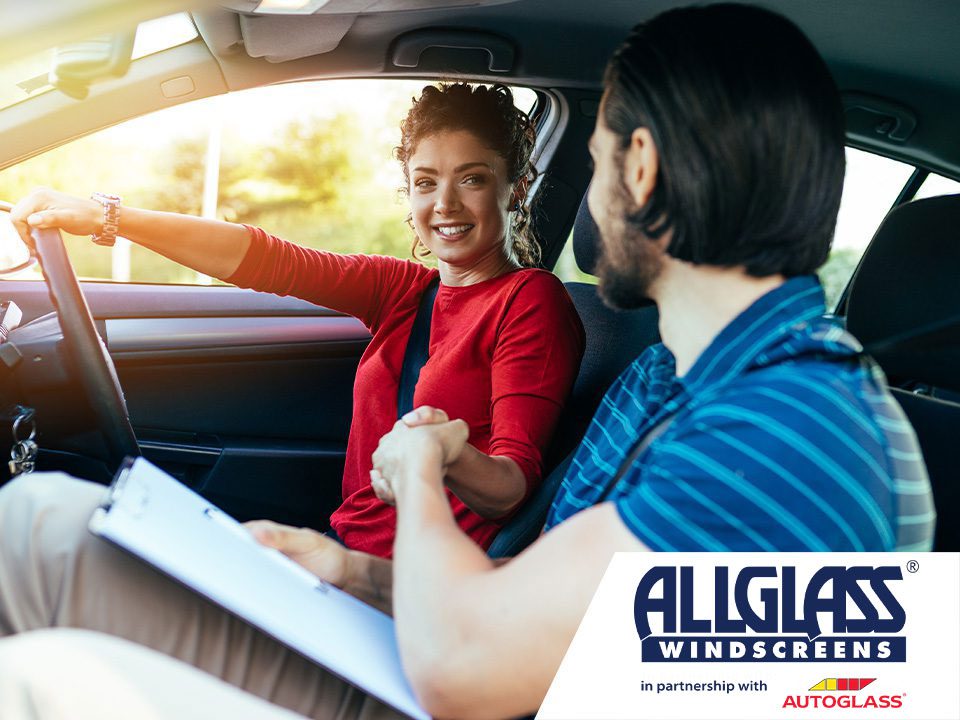 Planning ahead for the day of your Driving Test
It's no secret just how stressful preparing for your driving test can be. Even though you've aced your theory test and completed your 12 lessons – there's no shame in having a few butterflies in your stomach when the day of your practical test arrives.
Not to worry, you're not alone! We here at the Allglass® / Autoglass® have put together our very own special, one of a kind guide to help you plan for the day of your driving test. So, let's put panic to one side and dive in.
Question prep for your Driving Test >>
What do I need to Bring to my Driving Test? :
It's entirely normal for nerves to set in over the course of your final days of driving test preparation. As the day of your test approaches, go through this short driving test checklist. If everything listed below appears to be in order, you should be all set for your full driving test.
Check and double check that you have all the relevant documents in advance of arriving at your driving test location. Don't forget that this includes your provisional drivers license.
It is crucial that the vehicle you are intending to use for your driving test has a full and up to date NCT, Tax and Insurance discs clearly displayed. It is wise to double check all of these documents are in order, especially if you plan to use a vehicle other than your own on the day of your test.
Make certain that you have your Learner Plates properly displayed on your vehicle, both front and back.
This one might sound a little obvious but your car must be considered roadworthy on the day of your driving test. In the week leading up to your test date, take the time to make sure that all your car lights are in full working order and that your tyre thread depth is at a safe level.
And finally, be sure to allow yourself plenty of time on the day of your driving test to ensure that you arrive in a timely manner in advance of your prescribed testing time. Aside from just being good manners, driving instructors invariably have a packed schedule and if you are late they are liable to move on to the next learner driver penciled in for that day.
All too many learner drivers set themselves up for a fail before they even set off for their practical driving test because they've arrived at the testing centre either late, forgetting crucial documentation or failing to notice a less than roadworthy tyre. If you keep a cool head, work your way through this driving test checklist and make sure you've got these essentials boxed off in advance of your test – you're already well on your way to nabbing that coveted full licence.
15 Top Tips for Passing your Driving Test >>
On the Day of your Driving Test
Now that we've covered what you need to worry about in the lead up to your driving test, it's time to dive into exactly what you can expect on the day of the test itself. Once you arrive at the testing centre, don't forget – strive to arrive nice and early, wait until your name is called by the test centre employee and enter the office once you are instructed to do so.
At this stage, it is important not to be put off if the tester appears a little abrupt or resistant to idle small-talk. Many drivers can find themselves on the back foot as they assume the tester doesn't like them and are choosing to mark them more harshly as a result. Don't forget, testers have a packed schedule and aim to be as impartial as they can be. This means that many like to keep the chit-chat to a minimum in order to avoid wasting time or appearing biased.
Once you are in the exam room with the tester, the first thing you'll be tested on are the rules of the road. The series of questions you are posed will be selected at random from a large pool of potential questions. These questions are multiple choice and traditionally involve being posed a question concerning the rules of the road and being asked to select the appropriate diagram from the selection provided.
Once you're finished with this portion of your exam, you and your tester will step outside and head towards your car. At this stage, before you get in the car together and set off for the practical portion of your test, the tester will check that your car has all the appropriate documents required i.e. your insurance, tax and NCT.
Finally, before you pull out of the testing centre and begin the practical portion of your test in earnest, you'll also be asked to check that all your car's lights (particularly your indicators) are in full working order.
With those questions and practicalities taken care of, it's time to get on the road. Try your best to follow your tester's instructions as closely as you can. One helpful tip to manage your nerves is to try and imagine that your tester is the same person that conducted your mandatory 12 lessons. If you can put yourself in the mind frame that the test is simply another lesson then you are well placed to remain calm and collected over the course of your driving test.
Once again, as your test goes on, don't become anxious if there's no small talk. Testers are not encouraged to chat or offer much in the way of feedback when the test is in progress. Keep in mind, over the course of the driving portion of your test, your tester will be assessing you based on your attention to the safety of other road users, your progression as well as your skill, ability and knowledge of driving competently. With so much on their mind, it can be hard to make time for chat or encouragement. Know that a quiet tester does not necessarily mean an unhappy or unimpressed tester.
While you're out driving, there will come a point where your tester will identify a quieter stretch of road and instruct you to pull over. At this point they will test you on your familiarity with various hand signals and demonstrate how comfortable you are with hill starts, reversing around corners and turnabout maneuvers. This portion of the test can be understandably nerve-wracking but try and keep a cool head and remember just how many times you performed these maneuvers over the course of your 12 lessons. Once you've got these tricky bits out of the way, you're on the home stretch and within touching distance of passing your driving test.
Finally, keep in mind that one of the most common responses from people having just finished their test is that it seemed like it was all over too quickly! The entire driving portion of the test should only take about half an hour. Keep calm, remain confident in your abilities and the whole process will be over before you even realize.
How to reduce feelings of anxiety >>
We hope this guide has left you feeling a bit more confident in advance of your test. Keep in mind, you've done your lessons, taken care of all the necessary practical preparations and, with that in mind, there is no reason you shouldn't pass your test. Once you've got your hands on that full license, be sure to check in with the Allglass® / Autoglass® blog again for all the motoring tips, guides and explainers that you could possibly need.
Common Driving Test Mistakes And How To Avoid Them >>
Best of luck and safe travels!
Book an appointment now
For a quick and easy way to make an appointment book online now.