Glass Table System (GTS)
Ergonomically designed to make the handling of windscreens safer for the Technician and is particularly suitable for use with the 1-Tek® and Multi-Lifters®
Patented system unique to Belron® Group S.A. and Allglass® / Autoglass®;
Made its debut at Best of Belron® 2010 in Paris and launched in 2011;
Trestle ergonomically designed to enable Technicians to lift glass with a straight back for maximum safety and right first time installation;
Tested by UK Health and Safety executive and proven to reduce strain placed on back;
Ergonomic open design;
Allows safe handling and turning of even large windscreens with no bending of the back;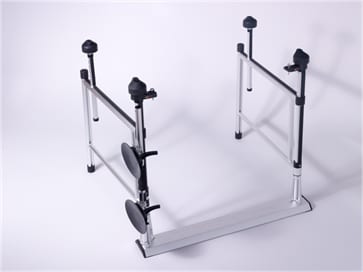 With the windscreen positioned on the GTS, all the glass preparation can take place, including the application of polyurethane, the adhesive that bonds the windscreen to the vehicle. The Glass Table System allows the windscreen to be rotated into an upright position without the Technician having to lift it into this position and allows the Technician to walk through the front gap. This method allows the Technician to remain in an upright position and is therefore more ideal compared to lifting off traditional trestle tables where the trunk is bent forward and the hands are outstretched away from the body during the lift.
Book an appointment now
For a quick and easy way to make an appointment book online now.