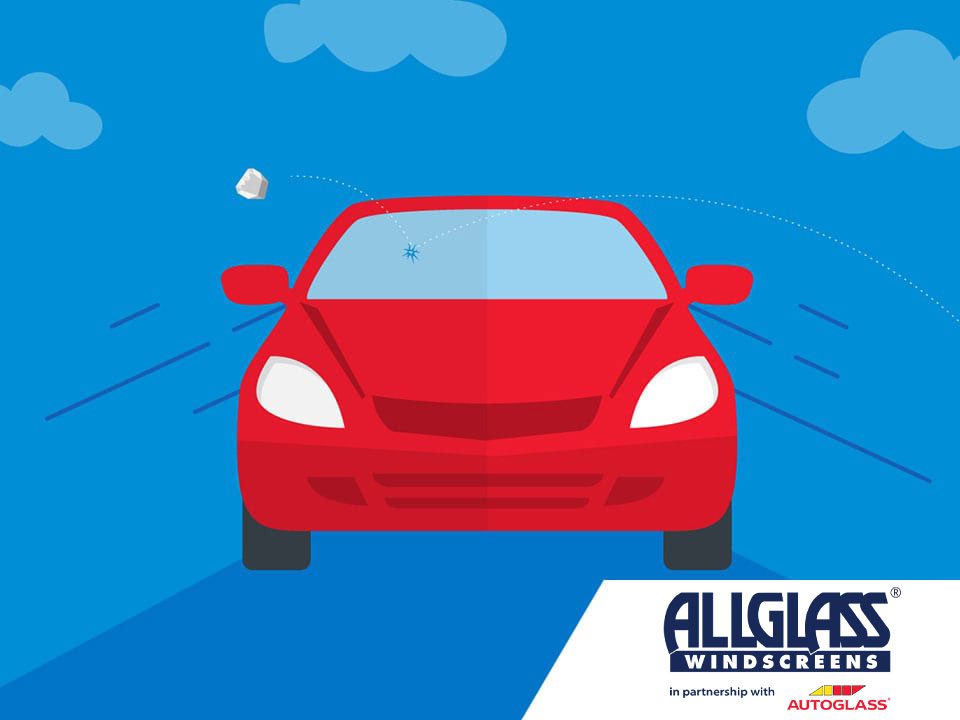 Ask an Expert: When can windscreens be repaired rather than replaced?
All it takes is one loose stone, or some other minor impact to cause damage to windscreens. Then you need to decide what to do next. No doubt a number of pressing questions will be flying through your mind: how severe is the damage? Can it be repaired? Will the entire windscreen need to be replaced? How much will all this cost me?
Read on to find out how Allglass® / Autoglass® technicians decide when a windscreen can be repaired, and when it needs to be replaced – plus find out how to manage the situation with as little stress as possible.
Click here to read our article on the top 5 windscreen and windscreen repair myths.
What kind of damage to windscreens can be repaired?
A windscreen repair is faster and cheaper than a replacement. At Allglass® / Autoglass® we try to save you time and money by repairing windscreens whenever possible. Some chips can be quickly and easily patched up, without compromising the strength and safety of the windscreen. Other, more serious damage (even if at first glance the damage doesn't look severe), will require a full replacement. Here are the factors we look at to determine whether your windscreen can be fixed:
Type of damage
If your windscreen is only chipped, it can usually be repaired, provided the chip meets the criteria for size and position (see below). However, if the glass is cracked, it cannot be repaired, and a replacement is required. The reason for this is that even if the crack looks fairly minor, it undermines the strength of the windscreen as a whole – and that puts your safety, and that of your passengers, at risk. Windscreens not only offers shelter from the elements, it also provides around 30% of the vehicle's structural integrity. As well as this, windscreens are a vital component when it comes to airbags. A windscreen that is weak or damaged can become completely detached when an airbag deploys. This would also cause the airbag to inflate over the dashboard and not provide vital protection to the passenger/driver.
Size
A windscreen chip can be repaired as long as it's no larger than a €2 coin. Larger chips cannot be safely patched up, so in these cases a new windscreen would need to be fitted.
Position
Chips that are located more than 7cm from the edge of your windscreen can usually be, safely repaired. A repair located any closer to the edge of the glass could potentially weaken the windscreen as a whole, so in this situation a replacement is required. If a chip is located within the driver's line of vision (an area of the windscreen about 30cm wide, centred on the mid-point of the steering wheel), then it must be no larger than 10mm across its diameter to be repairable. Otherwise, a windscreen replacement is required. Look at our visual presentation for more information about when windscreens can be repaired or when a replacement is required.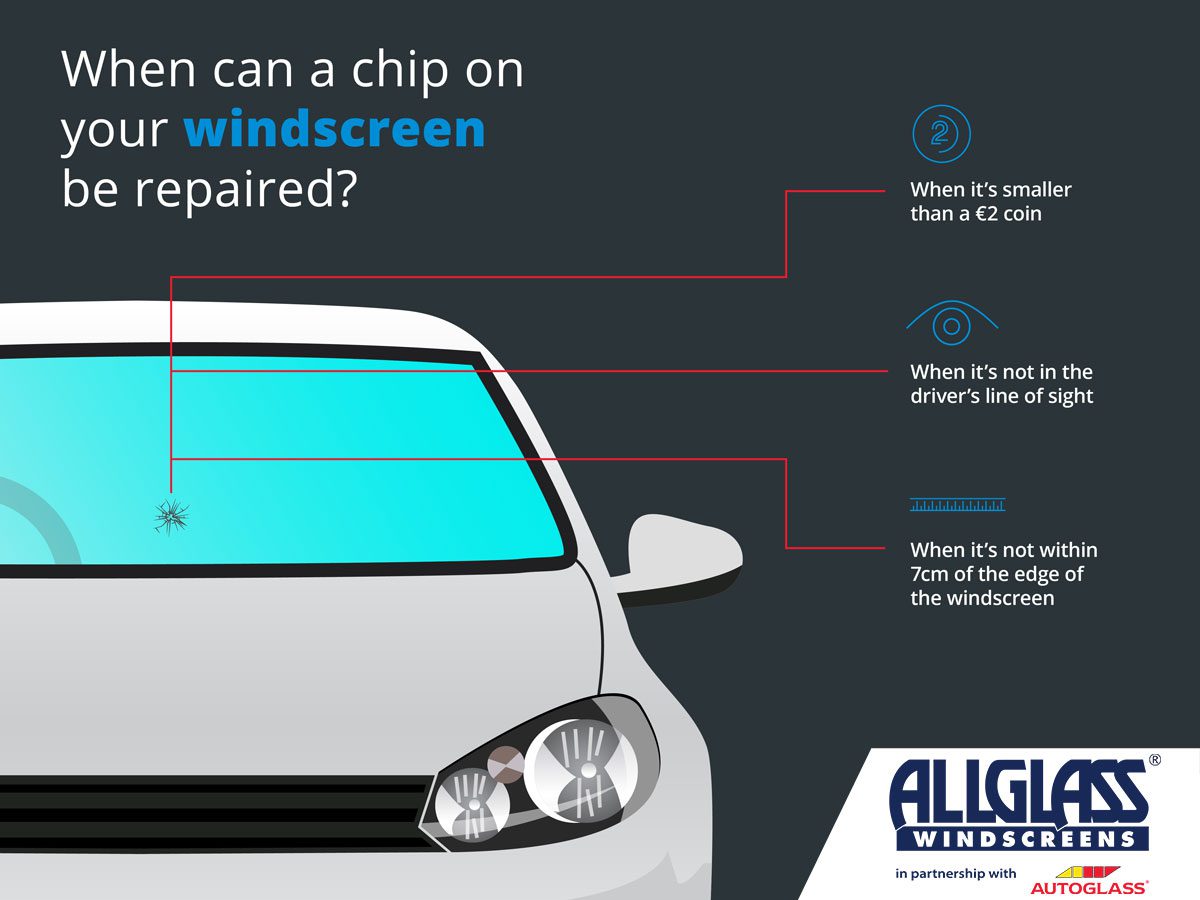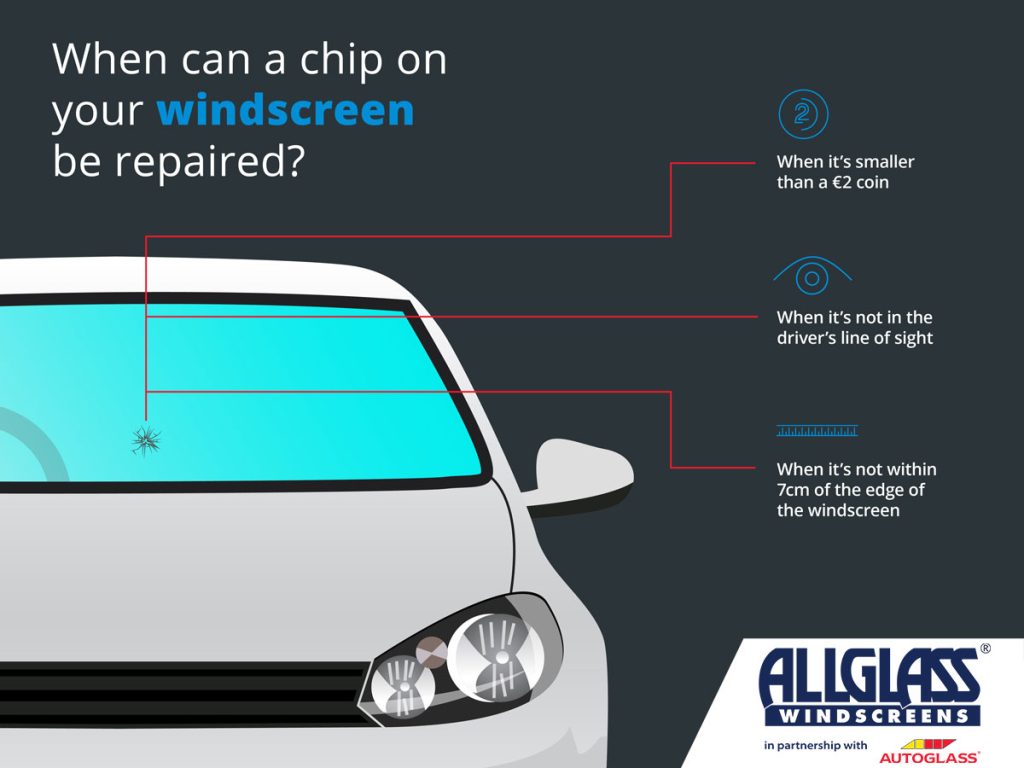 Can I wait to get a windscreen chip repaired?
There are a number of reasons why you should get a windscreen chip repaired as soon as possible.
First, it's a safety issue. Even a small, harmless-looking chip could suddenly expand into a fully-fledged crack – and if this happens while you're driving, it could dramatically obscure your vision or distract you from the road long enough for an accident to happen.
Another factor is convenience. Repairing chipped windscreens can take as little as 30 minutes, so it's a quick and easy fix. If you book with Allglass® / Autoglass®, our technicians come to you. So, you can get the job done without leaving your home or workplace. What's more, we can also deal directly with most insurance companies and can usually handle all the paperwork involved. I think you'll agree, this makes the entire process a bit less stressful.
One final thing to consider is that if the chip falls within the drivers line of vision and expands to more than 10mm across, your car could actually fail it's NCT/CVRT – and that's a hassle you certainly don't need!
But what about the cost?
Getting your windscreen repaired is better for the environment and is cheaper than replacing it. If your car insurance includes cover for glass damage, you can usually get the repair done for free. If your insurance doesn't include glass cover, we can still assist – call us on 01-4090900 for a quote today.
We hope you found this article informative. As always we're here to help with all your vehicle glass repair and replacement needs. Visit our website today for more information or to book an appointment.
Book an appointment now
For a quick and easy way to make an appointment book online now.