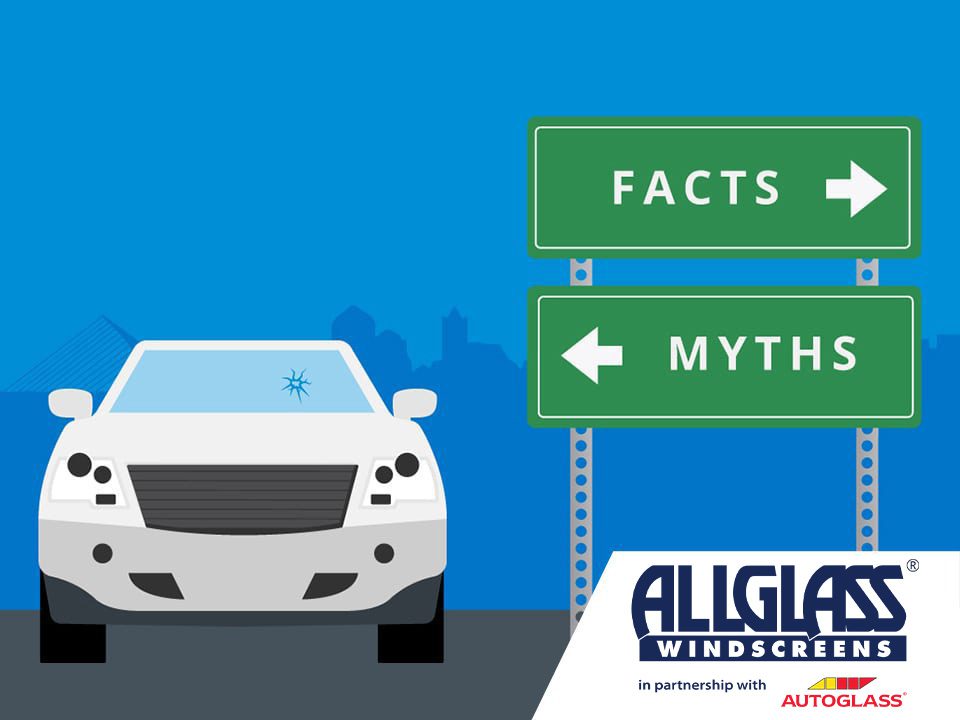 The top 5 myths about windscreens and windscreen repair
A windscreen is one of those things that everyone who drives a car takes for granted. After all, it's just another component of your car. Obviously, we think about them all the time, but they're not really something that keep most people awake at night. However, as with most car parts, it's only when things go wrong that they suddenly become very important. A windscreen that's in perfect condition is never remarked on, but as soon as a crack or chip appears, and a windscreen repair is needed, it suddenly becomes a conversation starter..
But of course, as with many things that people are not overly familiar with, there are plenty of urban myths and misconceptions bandied about when it comes to windscreens and windscreen repair. So, we at Allglass® / Autoglass® thought we'd take the time to debunk these and give you the real facts. And rest assured, these are facts you can trust because as the leading vehicle glass repair and replacement company in Ireland, there's not much we don't know, when it comes to windscreens.
1. Windscreens are made using safety glass and safety glass can't shatter
All modern windscreens are made using laminated glass, also known as safety glass. The common belief is that this can't shatter. This is very much a myth for the simple reason that flying debris, vandalism or even severe temperature changes can cause a windscreen to chip, crack, or shatter. Laminated glass will however hold together when shattered.
2. All chips are the same (a chip is a chip!)
Most car owners will at some point experience a 'chip' on their windscreen. The most common cause of a chip is road debris striking the windscreen when thrown up by other vehicles passing or travelling ahead of your car. However, not all chips are the same. In fact, there are several different types of chips each with their own characteristics. Bullseye, Half Moon, Star Break, Combination, Edge Crack, Stress Crack, Chip, Floater, are just a few of the exotic names given to the vast variety of chips/cracks we encounter.
3. Once a windscreen chip appears, you'll need a new windscreen
This is very much a myth. At Allglass® / Autoglass® we always aim to repair your windscreen first rather than replace it, saving you both time and money. Using our special HPX4 resin we fill-in the damage, restoring the structural integrity of the windscreen. A blemish will usually still be visible in place of the chip, but the car will be safe to drive again. The size and position of the chip can sometimes rule out repair as an option however. The infographic below shows when a chip can be repaired: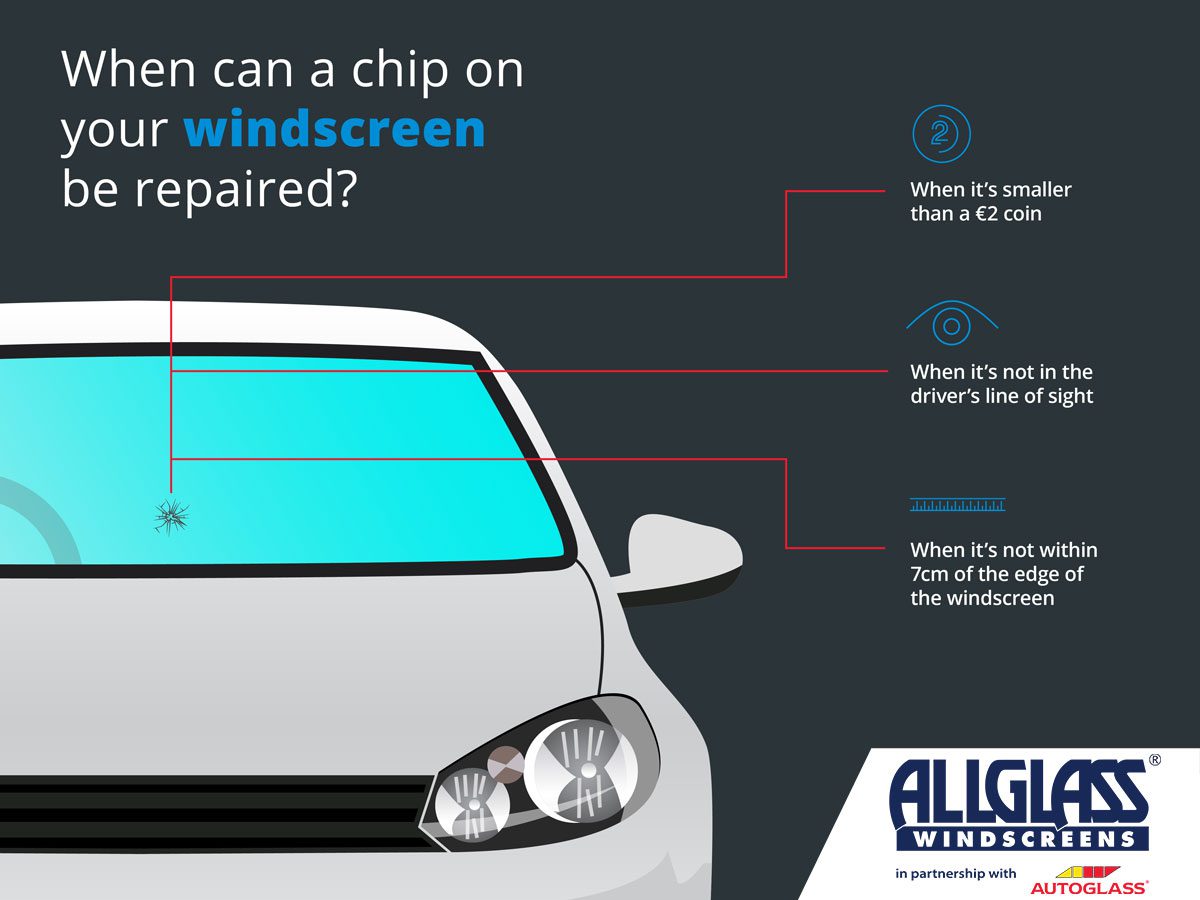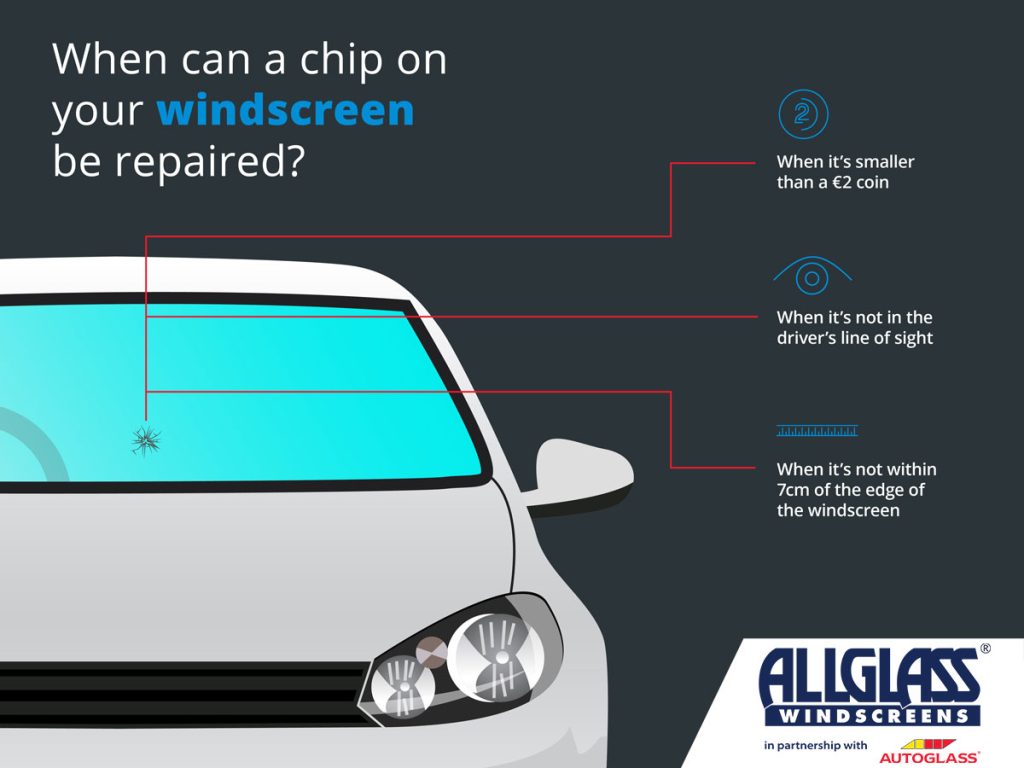 4. I don't need to fix a small chip because it doesn't affect my vision
A small chip may not affect your vision but once it exists, regardless of whether it's minuscule, it's likely to expand and increase in size over time, eventually forming a crack. Once a crack forms, a windscreen replacement is required. So, even the smallest chip should be repaired as soon as you spot it.
5. Windscreen repair is too costly and simply too much hassle
This is perhaps the biggest myth of all. Firstly, if your insurance policy includes glass cover, repairs are usually free – that's the cost issue addressed. Regarding the question of inconvenience; there is a common misconception that the repairs process involves having to leave your car with a technician for a day or more. This couldn't be further from the truth. Allglass® / Autoglass® provide both a fully mobile and a depot service. Our technicians cover every town and county in Ireland meaning we can carry out all vehicle glass and windscreen repair or replacement jobs at a time and place that suits you. Repairs can take as little as 30 minutes to complete, while a windscreen replacement typically takes an hour (we advise allowing an additional hour for the windscreen to set).
So there you have it. The top five windscreen and windscreen repair misconceptions laid to rest. We hope you enjoyed this article. Check back with the Allglass® / Autoglass® Blog soon for more articles like this one. As always, we're here to help with any of your vehicle glass repair and replacement needs. Visit our website for more information.
Book an appointment now
For a quick and easy way to make an appointment book online now.