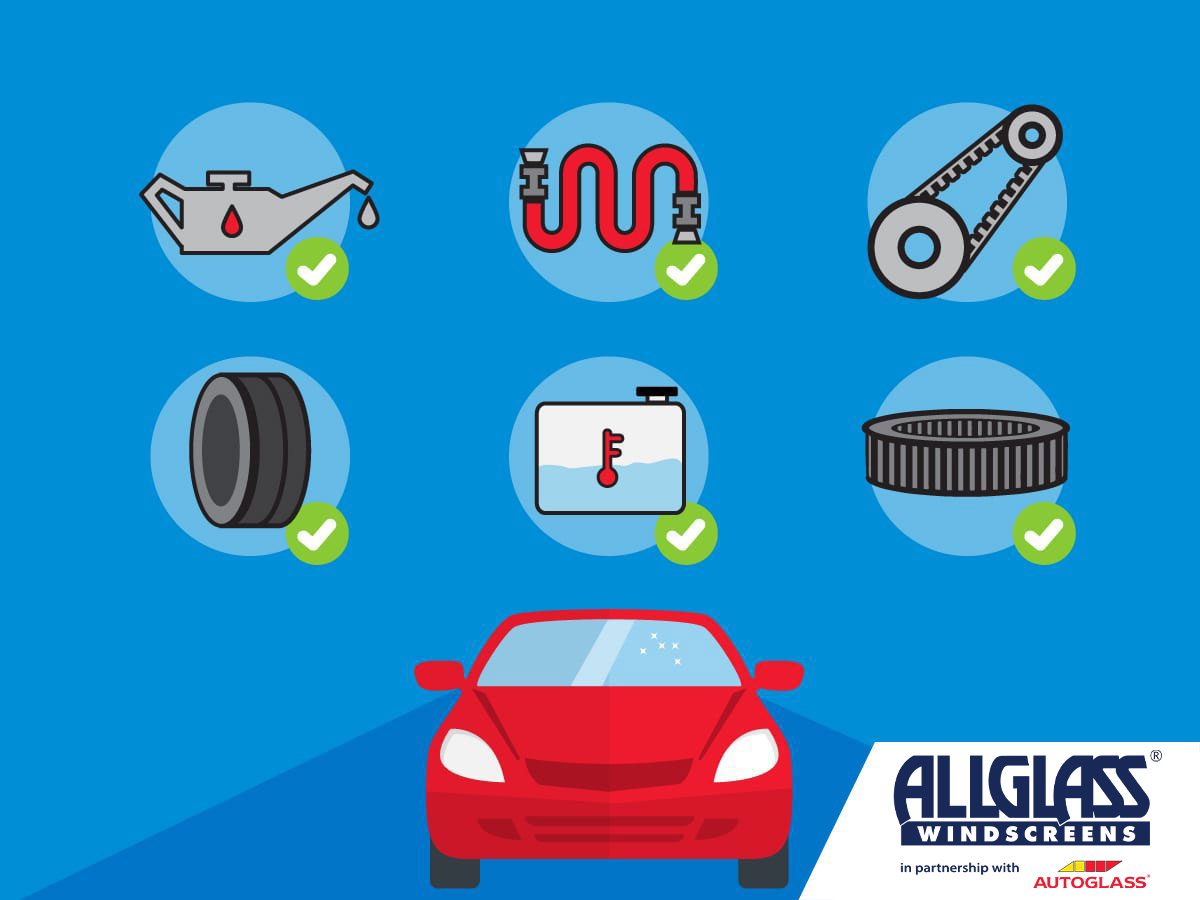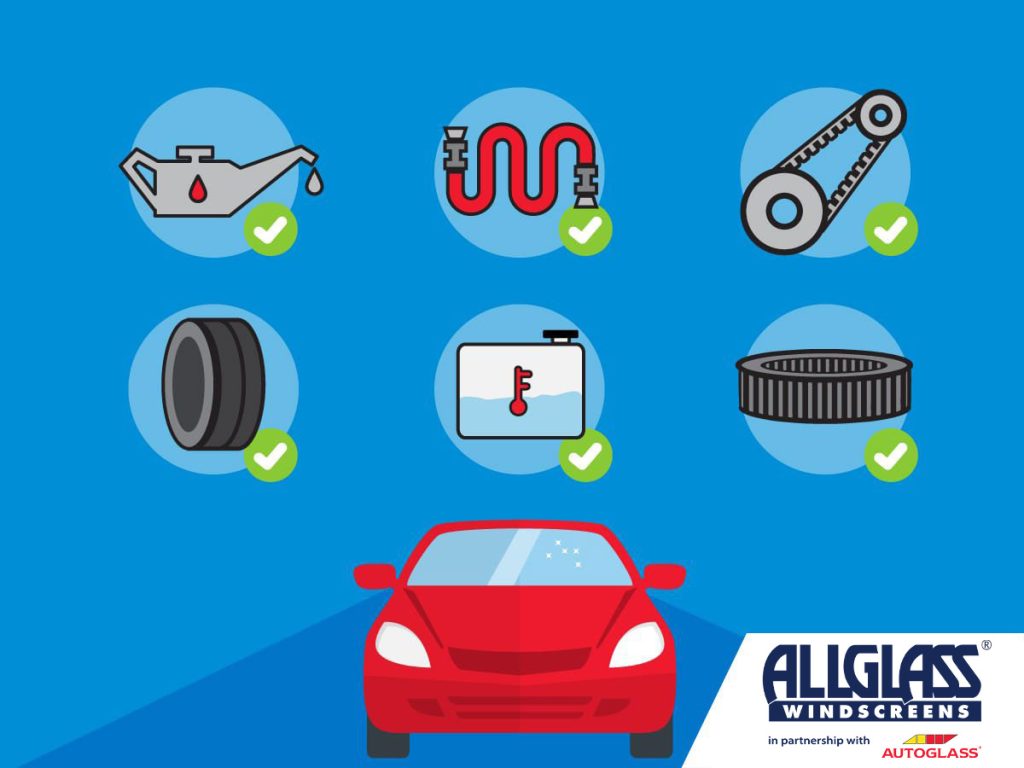 NCT Check Essential Guide
Preparing for your NCT can feel like a daunting task. Thankfully, Allglass® / Autoglass® are here to help. With the aid of this handy NCT check essential guide you and your motor will be ready for all the various tests that you can expect on the day.
Clean Your Car
When wondering what is tested as part of your NCT – it's easy to forget the basics. You should give your car a thorough clean before arriving at the testing centre. Ensure your lights, windows, mirrors and registration plates are clearly visible and totally undamaged. Don't forget to clean the underside of your car too. Finally, you should empty the boot and also remove anything from the car that is likely to get in the way of the tester – that includes child seats.
Top Tip:
If you have child seats present at the time of your NCT Test, the tester is obliged to check they are fitted properly.
Check Your Lights
It can be a headache to replace bulbs in many modern cars. But, even a single faulty bulb spells an immediate fail at the NCT Testing Centre. Checking your lights before you arrive at your NCT Test Centre is an absolute must. With your engine running – check your indicator bulbs, dipped and high beam headlights, parking lights front and rear, lighting of the rear number plate, fog lights and even brake lights. If you come across a damaged bulb but don't know how to change it –  simply head to your local motor factors, many will be happy to replace a bulb without charging for their time.
Top Tip:
You can ask a friend to assist in making sure your brake lights are working. Otherwise, try using a window or mirror to check your light's reflection.
Inspect Your Tyres
Since April 2010 all cars presenting for NCT are required to have 'E' stamped tyres. This stamp certifies that your tyres comply with EU and other international tyre safety certification standards. Due to this rule, finding non 'E' stamped tyres in Ireland is difficult. If you have purchased part worn tyres, there is a chance they have come from outside of the EU and will not be stamped.
You should inspect your tyres for cosmetic imperfections like bulging. If you encounter any issues – it's best to replace offending tyres as part of your NCT Check. When replacing your tyres, remember that they must be the same size across the front or back axles. In other words, your rear tyres can be a different size from the front but the ones on the front must match one another.
Don't forget to check the tread depth too; the legal limit is 1.6mm depth across the middle of the tyre, but, if they are that close to the cut-off point, it is probably about time to change them anyway. To help you out Allglass® / Autoglass® have put together this handy infographic.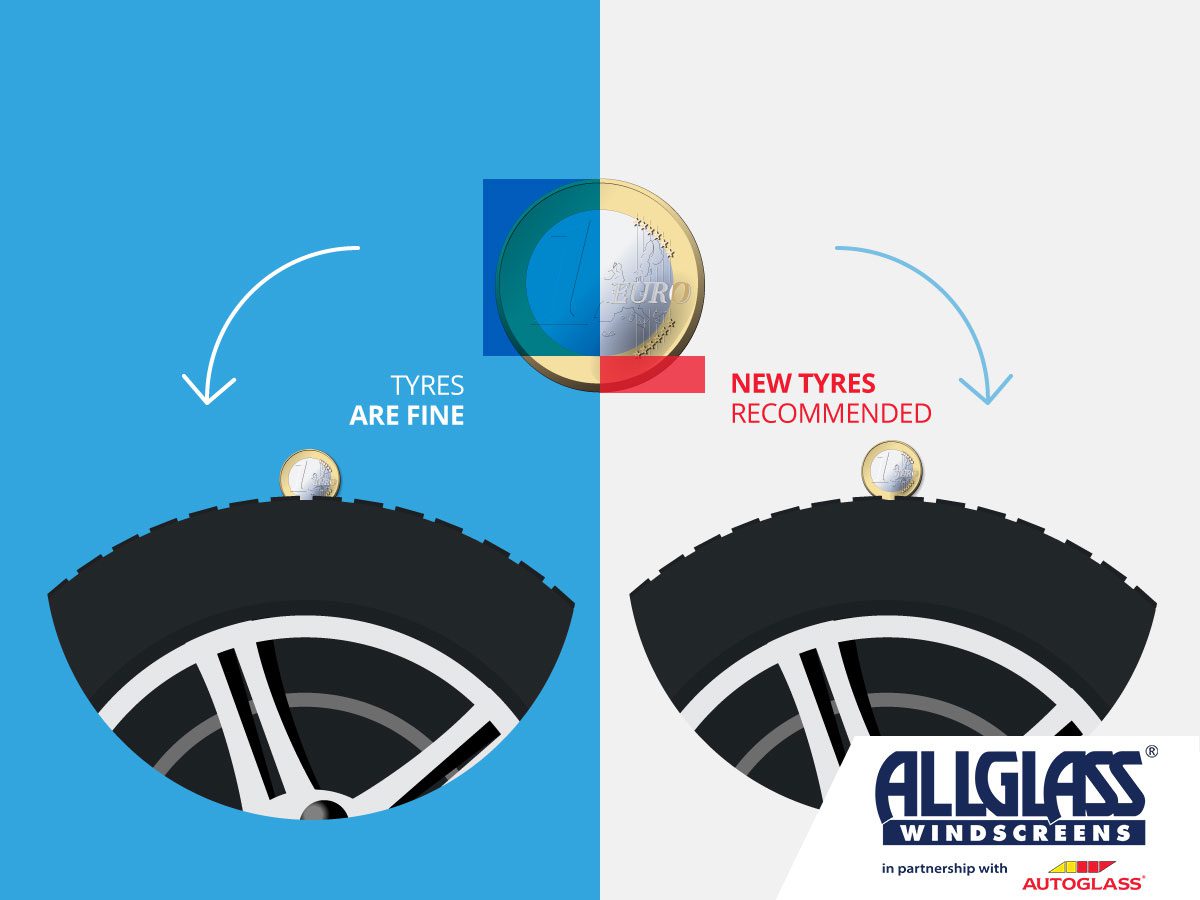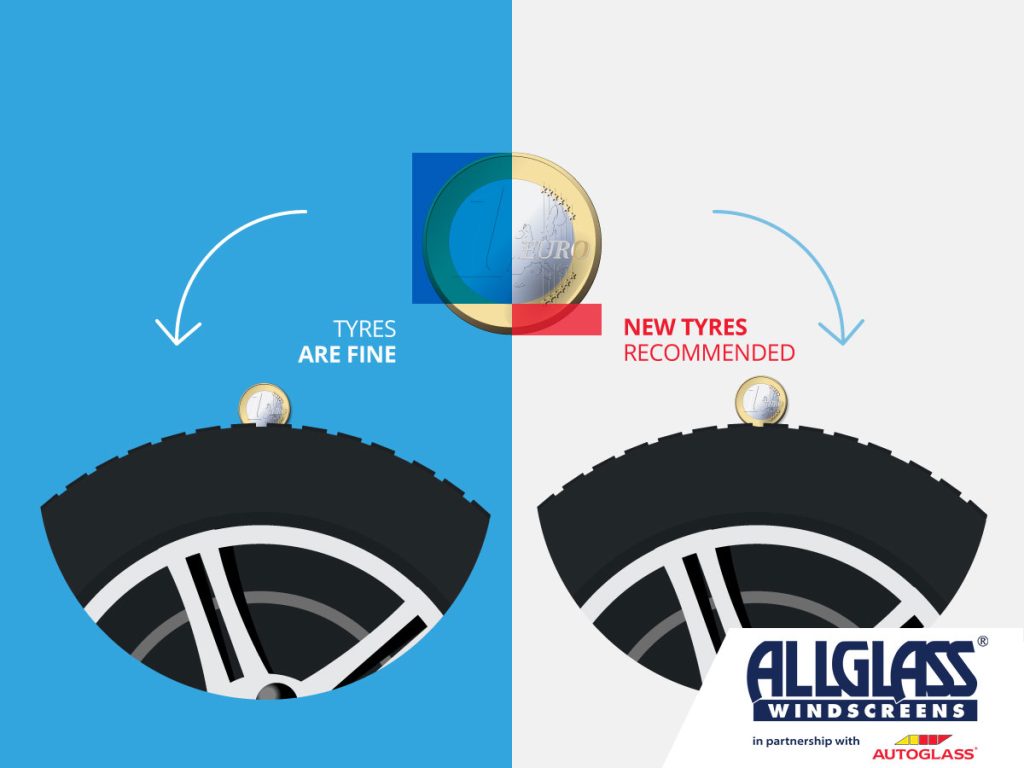 The tread depth of your tyres should only be measured when the tyres have been fully inflated. So, find out the pressure the car manufacturer recommends and pump your tyres up accordingly. Finally, If your wheel nuts are not visible, remove your wheel hubcaps in advance of your NCT Check.
Top Tip:
Unsure of your car manufacturer's recommended pressure? Not to worry! There is usually a plaque detailing recommended pressure on the inside of the driver's door frame.
Check Your Fluids
Before you arrive at your NCT Testing Centre, double check all your fluids are as they should be. Pop your bonnet and run through Oil, Engine Coolant, Brake Fluid, Power Steering Fluid and Windscreen Wash. Traditionally, the receptacles for these fluids are clearly marked and should be a breeze to refill regardless of your experience in auto-maintenance.
Pay Attention to Warning Signs
Have you been ignoring a dashboard warning light? Now is your time to spring into action!
Arriving to an NCT Centre with an illuminated warning light is a serious no no. A lit up airbag warning light spells immediate failure. If your Engine Management light is showing, your NCT inspector might not even conduct the test!
Not all warning signs are found on your dashboard. Have you noticecd any knocking or thudding sounds? Maybe even your steering pulling to the left or right? Both these issues are usually linked to a problem with your suspension. Suspension issues are the cause of the majority of NCT fails. Save yourself the inevitable €28 re-test fee – take your car to a trusted mechanic and get these issues sorted in advance of your NCT date.
Seatbelts
This is an easy step that can be all too easy to forget! You must ensure that all seat belts and clips are clearly visible and in proper working order. Neglecting to do so will result in immediate failure.
Windscreens
Cracks on your windscreen can spell automatic failure. It's a little known fact that your windscreen accounts for up to 34% of the structural integrity of your car. Nowadays, windscreens have become as much of a safety feature in your car as airbags and seat belts. Chips can also result in failure, particularly if they're in the driver's line of sight. Our windscreen repair or replace guide is a good starting point to find out whether action is required.
Top Tip:
If you have windscreen cover on your insurance policy, the chip repairs usually won't cost you a thing!
Don't Forget Your Paperwork
When you are considering what the NCT is for, it can be easy to gloss over the little things. You should make sure that you have up-to-date copies of your Driver's License, Vehicle Registration Book, Registration Certificate or Licensing Certificate with you when you arrive at the test centre. Also, you should be sure you have your test fee of €55.00 ready when you arrive at the Test Centre. Without your fee and documents, the testers won't even look at your car.
Top Tip:
Test Centres accept cash payment but also Laser Card and all major Credit Cards (excluding American Express).
NCT Check Conclusion
Once you've run through this NCT check essential guide, your NCT should be a breeze! Make sure to check back with the Allglass® / Autoglass® blog for more handy tips and guides just like this one.
Book an appointment now
For a quick and easy way to make an appointment book online now.