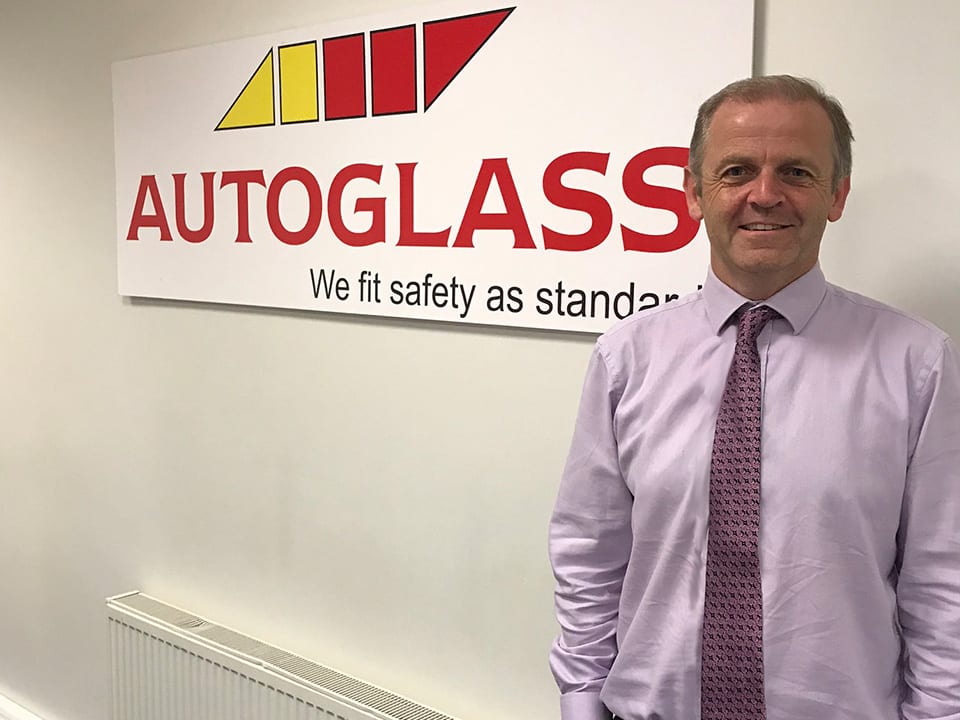 Irish Broker Magazine Interview
Autoglass, under Irish mangement, celebrates it's 40th Anniversary in Ireland
Donal Lawlor, Managing Director, Autoglass Ireland talks to Irish Broker Magazine

It has been a few years since we last spoke with Autoglass, what has been happening?
Quite a lot as it happens. A major change, which our customers would notice, is that we have moved from a branch and mobile service to a predominantly mobile service. This means that we now carry out the majority of vehicle glass repairs and replacements at a place of the customers' choosing. Alongside this, we are celebrating our 40th anniversary of serving customers in Ireland, a milestone we are extremely proud of.
The move to a predominantly mobile service was a significant change – did this go against certain industry thinking?
Yes, it did but our customers' needs are changing and this move allowed us to make accessing our service as convenient as possible for the customer. We found that customers' resented having to sit in a draughty building at the back-end of an industrial estate and wait for 2 hours before they can drive their car away. In contrast, the ability to come to the customer means they can go about their day-to-day activities while we carry out the work in the background. In many cases, customers' have paid a high insurance premium, so they deserve a better service.
Autoglass is still considered a UK company by many in Ireland. Is this the case?
It actually isn't. We have operated in Ireland since 1978, predating all our competitors. Autoglass is part of the Belron Group, the largest VGRR provider in the world, with 29,000 employees across 36 countries. Over a decade ago, the Irish company was controlled through the UK but this came to an end in 2007. We now have a 100% Irish management team and report directly to the group company.
Windscreen safety is a message Autoglass has gone to great lengths to promote. Can you elaborate on this?
I would be happy to. Safety is a bigger issue in this industry than most realise. We commissioned a report on windscreen safety a number of years ago and presented it to the Oireachtais Joint Committee on Transport and Communications as far back as 2013. This report showed that passengers in up to 10% of vehicles in Ireland were at risk in the case of a crash, due to poorly fitted windscreens. There is no standard for fitting windscreens in Ireland and as a result poor practices and substandard glass have emerged over the years. We have been working for most of this decade to reverse this trend.
Why go to all of this bother? Was it a commercial decision?
No. As the largest company in this industry, we felt an obligation to take a leadership role after seeing too many cases of poorly fitted windscreens, which compromised the safety of Irish motorists. Peoples' lives were in danger due to the lack of a fitting standard in Ireland and we felt it was time to improve this situation. No other company in Ireland or the Government was willing to fund this costly exercise.
What was the outcome of this initiative?
We introduced an internationally recognised standard for fitting windscreens in Ireland and some of our competitors followed suit. Despite the huge efforts we expended and the great support we received from insurance brokers and insurance companies, there is still no requirement for a fitting standard in Ireland so there is still a risk in the Irish market. For this reason, it is vitally important that a customer choose a VGRR provider who adheres strictly to these safety standards.
What are your thoughts on the car insurance market in Ireland?
I think that it is entering a very exciting time but one where we may not recognise the insurance landscape when we emerge from a period of huge change. The service of insuring cars, which are owned and driven, by the same person and where the range of events to happen to a car are reasonably predictable will change enormously. I think that it will remain as is for a number of years but the changes we are seeing develop now, will become more mainstream resulting in a vastly different industry in 10-20 years.
The ability to come to the customer means they can go about their day-to-day activities while we carry out the work in the background.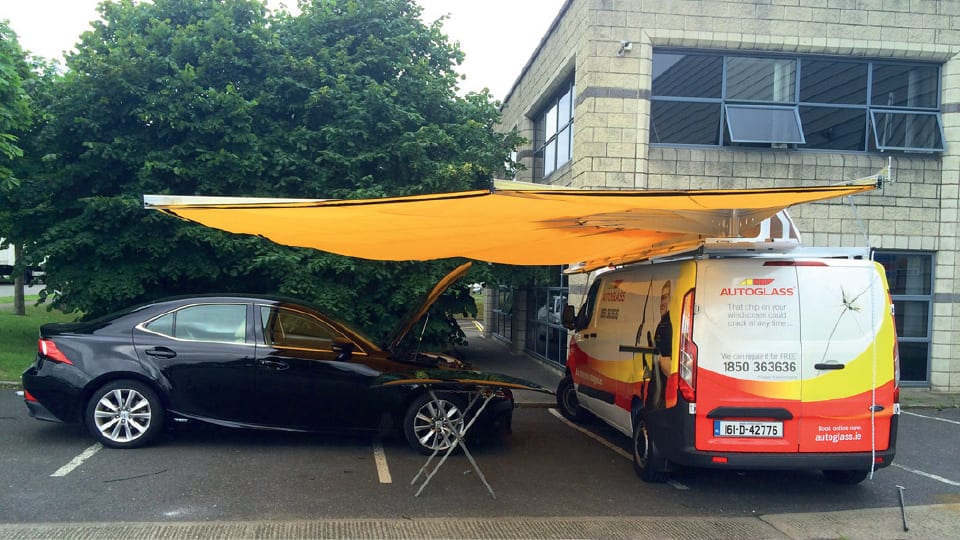 What changes are these?
It starts with drivers aids which are grouped under the acronym ADAS (Advance Driver Assistance Systems). These include assistance and warning systems in newer cars today such as lane deviation systems, emergency brake systems etc. Many of these are fitted in newer cars in Ireland as standard and this is the start of the major changes. The huge number of cars imported from the UK, where the general specification of cars is higher than in Ireland will also speed up this process.
Why is this exercising Autoglass so much?
When we replace the windscreen of a car, which has ADAS features, we have to re-calibrate the camera, through which a lot of the ADAS actions flow. It is vital that this is done correctly. To be ahead of the game, we are in close contact with all of the major manufacturers around the world and we receive regular briefings on the next level of ADAS. As extra safety features channel through windscreen-mounted cameras, the service we offer must adapt. Keeping informed of new ADAS developments, enhancement and changes before they reach the mass market, allows us to future proof our training and develop tools ahead of time.
If this market is changing so much, what are the challenges facing Autoglass?
This market is all about customer satisfaction and safety. We moved to a mobile service to meet the needs of the customer and 4 years later, after surviving hurricanes, snow and drought our customer satisfaction ratings have never been higher. Like most businesses, there is a risk of resting on our laurels so our focus is on continuous innovation to make our customers' journey with us easier and smoother each year.  We were the first company of our type in Ireland to introduce a booking on-line facility to make the process of booking a job easier for our customers. Our customers book flights online, bank on-line etc. and want the option to book their glass replacement on-line. We are now providing a similar service. In terms of understanding the market, we were also the first windscreen company to be a preferred partner of the Irish Brokers Association back in 2012 and are proud to continue this strong relationship with Brokers Ireland now.
As extra safety features channel through windscreenmounted cameras, the service we offer must adapt. Keeping informed of new ADAS developments, enhancement and changes before they reach the mass market, allows us to future proof our training and develop tools ahead of time.
Do you believe that your work on safety is now complete?
Customer satisfaction is essential but no customer wants their safety to be compromised. We have led the way in investing in improving the quality and standards of glass replacement through access to improved processes and tools as developed by our parent company throughout the world. Along with having the benefit of a huge parent company and their accumulated knowledge, we have also engaged with external companies to improve our offering. Autoglass was the first company to introduce an international standard (ATA) in windscreen fitting in Ireland. We were the first to introduce and explain ADAS to insurance companies and brokers when it first emerged. We also have ISO 9001 and ISO 14001 across all of our buildings and vans, not just head office which no other fitting company in Ireland can say. We recently won the "Best Van Fleet" award and only last month won an "Excellence in Auto Breakdown Service" award from the Public Sector Magazine. We are driving the safety and quality standards in this industry higher every year.
What does the future hold for Autoglass?
We will continue to be the leading force in this industry, driving standards and working hand in hand with insurance companies and brokers to deliver a best-in-class service and experience to our joint customers.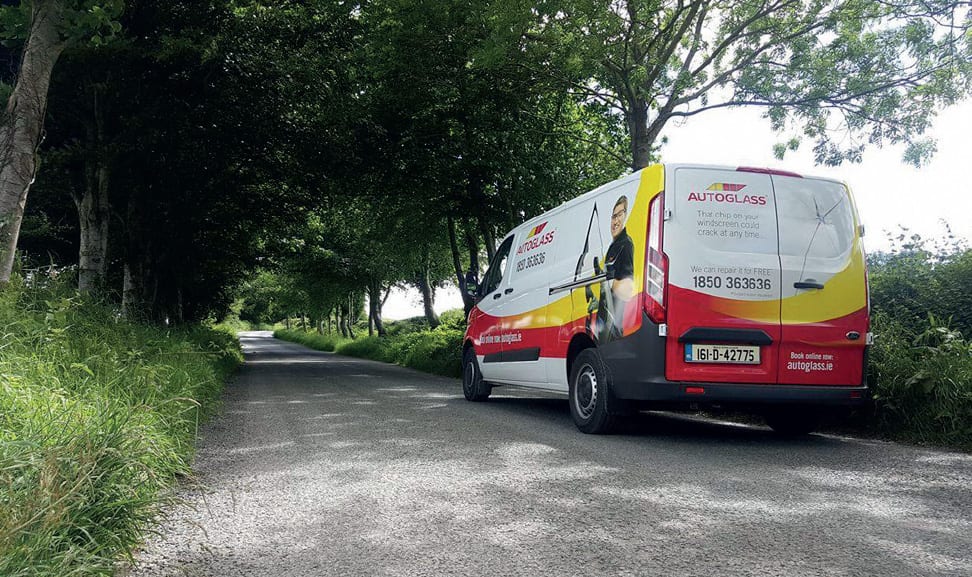 Book an appointment now
For a quick and easy way to make an appointment book online now.