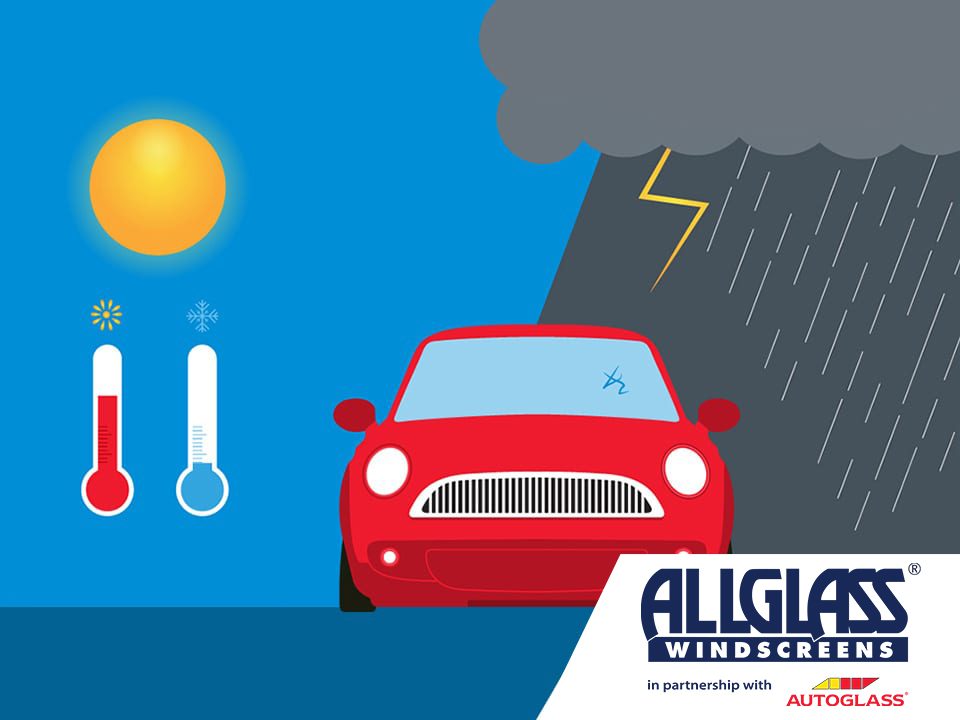 Five common causes of windscreen damage
It's a little known fact that your windscreen plays a pivotal role in driver and passenger safety. It provides 34% of the structural integrity of your car and a correctly fitted windscreen is essential for the proper deployment of airbags. As well as this your windscreen is designed to protect you from the elements, and in doing so endures a lot of punishment. Windscreen damage at some point during the life of your car is inevitable.
In this article we examine the most common causes of windscreen damage, including cracks, chips and scratches and also look at ways to help you avoid it.
How do windscreens get chipped or cracked?
A good quality windscreen is surprisingly sturdy, however they are made using glass, so can be damaged. Here are some of the most common reasons your windscreen may get chipped or cracked:
1. Road debris
Rocks, stones, pebbles and gravel thrown up by other cars tyres (or falling off the back of a lorry) are among the most frequent causes of windscreen damage. These small, hard projectiles travelling at speed can easily impact your windscreen and cause the glass to chip or crack. While there's not much you can do to avoid getting hit by a random stone, leaving ample space between your car and the vehicle in front, will reduce the chances of this happening. As a rule of thumb reduce your speed if another car is overtaking and take extra care when travelling on gravel or in areas undergoing construction. Look out for those Loose Chippings signs..
2. Bad weather
Ireland's ever-changing weather is also a common cause of windscreen damage. Tree branches and other debris blown by high winds can cause the same type of damage as stones, as can heavy hailstones. If you have a garage or other covered parking space, it might be a good idea to use it during stormy weather, and keep off the roads!
3. Sudden changes in temperature
A lesser-known cause of windscreen damage is a sudden rapid change in temperature, which can cause the glass to contract or expand. Human error often has a part to play in this. For example;
using boiling water to defrost your windscreen
leaving your car sitting in direct sunlight on a very hot day
suddenly blasting the air conditioning if the car has become very hot inside
4. Poor installation or glass quality
Stress cracks can also affect a windscreen as a result of structural weakness in the glass itself. These fractures often first appear around the edges of the windscreen, which is the area most prone to cracking, and can also be caused by incorrect installation. This is why its important to make sure your windscreen has been corectly fitted by an experienced technician and is made of high-quality materials – so that in the case of a collision, your windscreen can provide the structural support and protection it is designed to. At Allglass® / Autoglass®, our technicians are all ATA certified and trained to the highest standards, we also only use glass manufactured to OEM standards.
5. Collisions
This brings us to our final common cause of windscreen damage: accidents and collisions. These can range from traffic accidents involving two or more vehicles, to drivers accidentally hitting an animal on the road. Bird strikes even make the list.. It can also include other collisions, such as flying golf balls and airborne hockey sticks (yes this one actually happened). The best way to protect your windscreen from this kind of damage is to drive carefully and vigilantly and stay aware of your surroundings at all times. Perhaps avoid parking too close to a hockey pitch too..
What to do if you sustain windscreen damage
If your windscreen has been chipped, it might be possible to repair it, depending on the size and location of the chip. This should be done as quickly as possible, as chips undermine the structural soundness of the windscreen and can quickly enlarge into full-fledged cracks. A cracked windscreen, however, should be replaced in order to make the vehicle safe to drive once more. Have a look at this handy slideshow from Allglass® / Autoglass® to determine whether your windscreen can be repaired or needs to be replaced.
Check back with the Allglass® / Autoglass® Blog for more articles like this one. For all your vehicle glass repair and replacement needs visit our website today.
Book an appointment now
For a quick and easy way to make an appointment book online now.