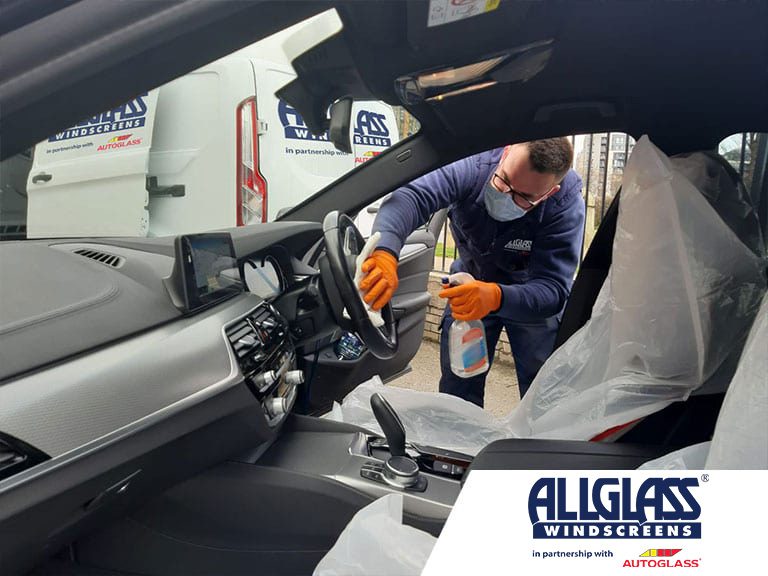 We're putting the safety of our Customers first
For us here at all Allglass® / Autoglass®, the safety of our customers and staff is absolutely paramount during the ongoing Covid-19 crisis. In March of 2020, as the seriousness of the pandemic became all too stark, we began the process of devising and implementing a number of new safety protocols to ensure the wellbeing of our customers and Allglass® / Autoglass® team members alike. We'd like to extend a special thanks to the Allglass® / Autoglass® COVID-19 safety team who have worked tirelessly over the last 10 months to keep all our locations nationwide safe and operational during these unprecedented times.
Below are just two of the ways Allglass® / Autoglass® have made using our services safe for our customers at this time.
Enhanced Covid-19 Touchpoint Cleaning
Enhanced Covid-19 Touchpoint Cleaning, or ECTC, is a mandatory service we now include as part of all the services offered at Allglass® / Autoglass®. Your vehicle will now be subject to ECTC both before and after any repair, replacement or recalibration job carried out by our nationwide team of depot and mobile technicians.
ECTC is, in essence, a rigorous checklist of sanitization steps designed to eliminate the chance of Covid-19 transmission between our technicians and our customers, and vice versa.
Our technicians use a new disposable mask and pair of disposable gloves for each ECTC session. Once the technician starts by sanitizing your car key, they can begin the ECTC session in earnest by thoroughly sanitizing the most significant exterior touchpoints of the vehicle; starting with the driver side and passenger side door handles and exterior door frames, before working their way around to the vehicle's boot lever.
The next stage of the ECTC process is focused on your vehicle's interior and the frequent touchpoints that could serve as danger points for Covid-19 transmission.
Sanitization begins with the steering wheel, indicator stalk, wiper switch, radio and any LCD screens, Sat Nav buttons, air conditioning buttons and the entirety of the vehicle centre console. From there, we sanitize seat belt buckles and inserts, handbrake, gearstick, your central armrest and interior mirrors front and back.
Next, our team of technicians sanitize all doors; opening handles, window release buttons, arm rests and handles, before moving on to a thorough clean of the dashboard, including the glove box and any additional buttons like boot/bonnet releases, interior light switches, sunglasses holders, drinks holders and handles above your head.
Once our technician has completed this thorough set of Enhanced Covid-19 Touchpoint Cleaning protocols, the technician will dispose of their gloves, wash / sanitize their hands and apply a fresh pair of disposable gloves before commencing the job at hand.
This entire process is repeated again once the repair, replacement or recalibration job is completed, with additional focus on any touchpoints specific to the job.
Full Interior Steam Sanitisation
Full Interior Steam Sanitisation is a special standalone service we are offering to customers as both a mobile service and at three of our Dublin locations: Tallaght, Wellington Street and Dublin Airport.
Full Interior Steam Sanitisation is a deep cleaning service specially devised to eliminate any traces of Covid-19 from the entirety of your vehicle's interior. This thorough sanitisation service only takes 10 minutes to entirely disinfect your vehicle and is considerably more environmentally friendly than sanitisation services that fail to utilise the power of steam.
The process involves activating your vehicle's own air circulation devices (air conditioning etc) and then subsequently pumping disinfectant mist through a one-inch gap in your drivers' side window. The turning on of your air-circulation system allows the mist to not only spread more effectively around the vehicle, but also move freely in to the airducts themselves; killing any bacteria and viruses (including COVID-19) found within.
Once your car is entirely filled with disinfectant mist, we allow the mist to circulate, before opening all windows and doors and allowing the mist to disperse. The mist leaves behind a thin residue. Once dry, this residue creates a protective antibacterial layer throughout your vehicle, wholly eliminating any traces of COVID-19 that may have been present.
Then, as a final line of defense, our team of technicians spray another round of disinfectant directly on to all of your vehicle's interior surfaces. Including the head liner, front and rear seats, door panels, carpets, dashboard, center console, steering wheel and wiper controls.
It's our privilege at Allglass to continue to provide top quality services to all our customers nationwide during these uncertain times. Please don't hesitate to contact our call centre on 01-4090900 if you have any further questions regarding our new COVID-19 protocols and services.
Stay safe.
Book an appointment now
For a quick and easy way to make an appointment book online now.